Christa is an Influencer, Tactical Marketing Strategist, Graphic/Web Designer, Digital Marketing Specialist, Social Media & SEO Guru and owner of Epiphany. She holds a Bachelor of Liberal Arts, and graduated magna cum laude with her Master of Business Administration. Christa also fulfilled the requirements for the Certified Professional Services Marketer in October, 2003 granted by The Society of Marketing Professional Services, and is one of a few legal marketers in the state of Iowa. Christa is an Assistant Professor of Business at Mount Mercy University. She previously served an Adjunct Instructor at the University of Dubuque in their accelerated MBA (LIFE) program, and as an Adjunct Faculty at Mount Mercy University. Christa frequently guest lectures on various marketing topics, branding techniques, and communication tools. She is passionate about helping others identify their own unique spark and tell their story. As a gifted encourager, she is a natural brand influencer, helping firms of all sizes grow big dreams. Prior to moving back to Iowa, Christa co-founded, owned and operated The Epiphany Group, Inc. a full-services marketing firm in Atlanta.
Christa is a philanthropic leader who is active in her community as a Marion Chamber Red Coats Ambassador and serving on the boards of both the Friends of Czech Village and Marion Cares. Christa volunteers her gifts and talents with Linn-Mar Foundation, Marion Evening Rotary Club, Linn-Mar Booster Club, Attachment & Trauma Network, Fellowship of Christian Athletes, House of Hope, His Hands Free Clinic, and Antioch Christian Church. Christa resides in Marion and is a proud boy mom.
Christa greatly enjoys collaborating with wonderfully talented individuals and firms and holds them in high regard. Gallup's StrengthsFinder 2.0 assessed Christa's top five themes as Strategic, Developer, Communication, Arranger, and Adaptability, and provided personalized strength insights that describe her quite accurately. Real Colors was also quite accurate with Orange, Blue, and Gold.
What others are saying...
Christa has consulted on our communications and social media strategy for over 10 years. Her digital marketing knowledge has been invaluable in growing our organization's online reach across the country and around the world. She has been integral in establishing ATN's brand, working to develop our current logo and communications guide. Christa is highly responsive and always willing to creatively design projects that work in our all-volunteer organization.
As a small non-profit, we are very fortunate to have a great partnership with Epiphany. Christa instinctively knew the visual appeal we would need so our event would capture the attention we were hoping for. Epiphany truly cares and are invested in the success of their clients and we could not be happier with our results.
Christa has been one of the shining star teammates at Veterans Legal Support Network. From our inception she has created, suggested, improved and basically ran our website vlsn.org from the day we started. I know how good she is because people tell me all the time what an impressive web presence we have and it is ALL because of her. When we needed it, she linked technologies so our Facebook feed was immediately updated and thereby gave us a critical "current" look that changed as soon as we made any updates or added stories. She is always on the lookout for new ideas for us and I'm lucky we found her when we did. I would unequivocally recommend Christa and Epiphany and actually have to 2 other law firms. You'll be happy you did too. Semper Fidelis.
Strategic Marketing & Planning
Tactical Marketing & Execution Leadership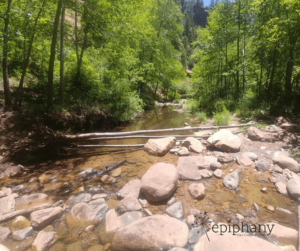 a spark
Hello friends,  Summer is here. The weather is perfect, I do hope you are having walking meetings and enjoying these long warm days. We are
Read More »
Christa would love to help you spark something new. Contact her today as the first step to growing those big dreams.